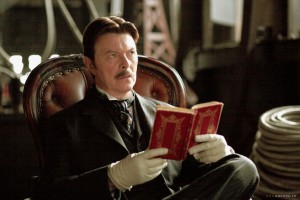 David Bowie as Nikola Tesla in the movie "The Prestige"
I grew up in the suburbs of Southern New Jersey as an MTV kid. As such, my first exposure to David Bowie was his 1983 video for "Let's Dance". Just like most young folks (and particularly kids raised as part of the early MTV generation), I made the reasonable assumption that since I'd not heard anything about him until then, he hadn't been around that long. Over the next few years, he became part of the vivid and complete tapestry of 1980s pop cultural landscape I enjoyed – it wasn't until my first year of high school that I started listening to weirder stuff (Love and Rockets, Bauhaus, The Smiths, Skinny Puppy, Dead Kennedys, etc.) that couldn't be found anywhere on the radio or MTV. He crooned and swayed through videos for "Modern Love", "Blue Jean" and other mid-80s' tracks, and portrayed Jareth, the Goblin King in Labyrinth; all of this reinforced my sense of him as this well-dressed, slinky and yet still somehow nerdy and stiff middle-aged dude (he was younger than I am now) that was much more exciting than so many of the other male solo artists dominating the same time period – Phil Collins, Peter Gabriel, Sting. There was just something about him which I both got and didn't. And right as I started really digging into music as a teen, including starting to play music myself in the last years of the decade, he stepped away from music for a few years following his disastrous Glass Spider tour.
(Having read a bit about this time of David Bowie's life, he spoke of the 1980s as a decade of struggle, after hard-won sobriety, taking on fatherhood of his son Duncan full-time, and navigating the quickly shifting sands of pop music and music in general, especially following the unanticipated success of the album Let's Dance. After a few more albums, he resurfaced as part of a band, Tin Machine, specifically intended to help him reconnect to his sense of creative courage and pure joy at creating independent of critical expectation. It worked, setting him on an astoundingly vibrant second act of a career…)
It wasn't until college, when I was dating someone very much more into Bowie's early stuff that I began listening, first to the classics Hunky Dory and The Rise and Fall of Ziggy Stardust…albums. From there, I was able to see how much I'd missed by seeing him as a product of the 1980s, that there was so much more, so much weird, so much smart, so much ragged and gorgeous and epic and intimate. I eventually worked my way through all of Bowie's back catalog, and when his new album, Outside, came out, I bought it. And caught the accompanying tour with Nine Inch Nails as openers. I've felt a deep connection to Bowie since. I now own nearly every one of his albums from his beginnings to Outside on vinyl. And a tattoo with a line from his song "Teenage Wildlife," which I got just 5 days before he died.
Following his death, I spent a lot of time thinking over his body of work, and how while there are so many of his songs that are part of rock history, ones which folks have sung and played as tributes to him following his passing, there is a large untapped well of songs that don't get as much attention, but that I love and think are ever much as wonderful as those hits, classics, whatever you want to call them. And so here's a rundown of about 25, with the last few being ones that likely straddle the line between well-known and not-all-that-known. This is intended to get folks who are somewhat casual listeners of Bowie to explore these lesser-known gems and the albums they are on more deeply, so the breadth of Bowie's journey can be more deeply appreciated. I could certainly have included many more, but figured a number like 25 was a good starting point. Later I realized it was the same as the number of studio albums he released under the name David Bowie (I'm not counting Tin Machine and Tin Machine II, since they are band/project records).
Anyway, enjoy. These are in no particular order. (Also, see note at bottom about the complexity of mourning Bowie).
"Subterraneans" – https://www.youtube.com/watch?v=IevwLPV86os
This song is the last track on Low, the first album in the so-called "Berlin Trilogy." I have a special connection to this song, because it was the first song Bowie's band performed as he came on stage when I saw him the first time live, on the Outside tour, when Nine Inch Nails opened for him. It was at one of those outdoor arenas with general admission lawn seating in the back, which is where I was; most of the folks there were clearly there to see NIN, as evidenced by a large exodus that occurred once Bowie's set began in earnest. NIN was playing, and then their music started morphing into something haunting and anticipatory, which only heightened my growing ache for Bowie to begin, as well as the tension that had built up between Bowie and NIN fans in the lawn area. It was this song. Somewhere during the hypnotic swirl of synth, Bowie walked on stage. He did the vocalizations at the heart of this song, and that was it. No doubt, no question, the stage was his.
"God Knows I'm Good" – https://www.youtube.com/watch?v=CUHl7brEFOU
This song is from Bowie's second album, Space Oddity, back when he was a psychedelic folk-rock type. It's got this lovely darkness and tragedy to it that's stayed with me over the years since I first heard it.
"Station to Station" – https://www.youtube.com/watch?v=ZY77zDzNmYw
This song is likely Bowie's first major opus, from the album of the same name, recorded around the time he starred in the movie The Man Who Fell to Earth. It's still the longest studio recorded track he's ever released, just a few seconds longer than "Blackstar". It's a wonderful synthesis of many of the styles he'd explored through the 1970s, and reaches towards the Berlin trilogy in terms of the progressive/krautrock feel at the beginning. (I still can't believe no one's ever sampled the piano riff to use in something else.) The second half is no less than glorious — Bowie's "plastic soul" at some of its most realized, even better than some of Young Americans in my opinion. The Thin White Duke's finest moment. Bowie unfortunately doesn't remember much of it, though, as he was in the height of his cocaine phase, where he subsisted on a diet of peppers and milk for nourishment. He spoke about this album as one he himself listened to as "a piece of work by an entirely different person."
"Jump They Say" – https://www.youtube.com/watch?v=avJt0SQec0I
This song is from Bowie's album Black Tie White Noise, released in 1993 following Tin Machine and his marriage to Iman Abdulmajid. It's supposedly about the mid-1980s suicide of his older step-brother Terry, who had been hospitalized with schizophrenia many years earlier. Bowie had written other songs about their relationship and about Terry (such as "All the Madmen" and possibly "The Bewlay Brothers", from Hunky Dory and The Man Who Sold the World, respectively), but this is his attempt — what he himself acknowledged was a somewhat abstract attempt — to touch on his grief.
"Teenage Wildlife" – https://www.youtube.com/watch?v=_myArN2GO40
This song, from 1980's Scary Monsters is to me, one of the key songs in the Bowie canon, the heart of an album directly following his Berlin trilogy and before his wildly successful Let's Dance. It explicity has him looking back at the rollercoaster ride of a life (both creative and personal) he experience during the 1970s, at the emerging new wave movement drawing inspiration and possibly outright ideas from the trilogy (specifically Gary Numan), and towards an uncertain future. Instead of being troubled, this song finds Bowie basically dancing on the grave he imagines so many to have dug for him…including the new shiny acts that have claimed him as their idol. He does this defiantly, with a touch of camp, soul, and what feel to me like true self-confidence and courage. (Bowie spoke of it as a homage to Ronnie Spector's style.) It's bitchy, profound and cathartic all at the same time. And some of my favorite lines he's ever written are in this song. "Those midwives to history / Put on their bloody robes…" What? While it is true that the decade following this album and song's release saw him creatively founder more often than the previous decade, this song expresses a refusal to be cast aside, and shows a relentless faith that will be validated in his work from the 1990s until his death. It seems a bit off for a 33-year old rockstar to be writing what's effectively a mid-career crisis song, but it makes sense in the context of all he accomplished in the 1970s. It's become an inspirational track for me over this last year, as I've entered my 40s and am summoning up courage and confidence to keep my own creative journeys going. And thus, the tattoo (see below). (In a font named Styptic, that is stylized as incomplete.)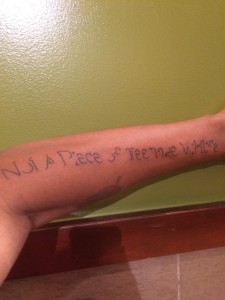 In a 2008 interview in the Mail, Bowie said of this track, "I'm still enamored of this track, and would give you two 'Modern Loves' for it any time."
P.S. As with many folks, I've struggled with some elements of Bowie's past as I've mourned him. I have no problem writing off folks like R. Kelly, Woody Allen, and Roman Polanski, but honestly have a hard time with him – his music means too much to me to do so. I thought about trying to write something around that, but am instead including a few pieces below that I think capture the complexity of what I felt and thought in the days following his death, up to now.