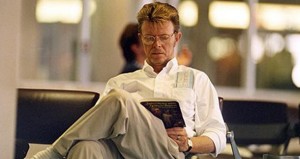 David Bowie, reading.
This is the second in a series of five parts, listing some of my favorite David Bowie lesser-known songs, in no particular order. (Also, see note at bottom about the complexity of mourning Bowie).
For background on this series, please see Part One.
"The Stars (Are Out Tonight)" – https://www.vevo.com/watch/david-bowie/the-stars-%28are-out-tonight%29/USRV31300002
The gorgeously smoky and hypnotic third track of Bowie's surprise 2013 album The Next Day. The video is a strange, dreamy play with Tilda Swinton starring as his wife. I was obsessed with this song once I heard it…it's got this wonderful noir feel that fits in with his jazzy style (from albums like Outside and Blackstar), and it's got a sense of humor. It's easily one of his last classic songs, one of the songs that sounds most him (a weird thing to say about someone so frequently referred to a rock 'n' roll chameleon, which I'd argue with), a great synthesis of all the things he's done right. Frankly, this song was the one that renewed my faith in him after his previous album Reality, which I thought was just okay. There are some other great songs on this album…but this is my favorite.
"Dead Man Walking" – https://www.youtube.com/watch?v=wOZrGHmMl4o
This dance song from Bowie's 1997 drum-and-bass inflected album Earthling could be seen as a sequel to "Teenage Wildlife"; it's another fairly defiant song about keeping the first even as you get older, released on an album the same year Bowie turned 50. It was one of my favorites on this album, and I'm glad I got to see him perform it live on the accompanying tour.
"Letter to Hermione" – https://www.youtube.com/watch?v=vIBO7XS7pe8
This seemingly sparse goodbye song to Hermione Farthingale, a crucial early love, muse and collaborator of Bowie's, gets me every time (it's from Space Oddity). If you have ever been in that state of confusion about how to navigate the boundaries of a recently ended relationship, it might get you, too.
"Survive" – https://www.youtube.com/watch?v=HO7FTtX73GE
This track, from 1999's hours… sounds like another break-up song (though it could be about a different kind of loss as well; I just don't hear it that way). It didn't resonate for me until about two years after its release. I'd gone through the end of a years-long relationship, and then the start of some lonely and dark days. This song carried me through, and still can lift me up when I'm feeling that darkness or others sneaking up on me.
"Aladdin Sane (1913-1938-197?)" – https://www.youtube.com/watch?v=c4ZZMbpUFMY
This song – from the 1973 album of nearly the same name – is likely Bowie's first real foray into experimental jazz territory, though it could be said that some of his early psychedelic stuff reached some of that as well. It's a bold leap away from the snarly, sexy glam rock he'd just become famous for the year before, with the release of his landmark album The Rise and Fall of Ziggy Stardust and the Spiders From Mars, and reaches towards both towards some of the jazz feel that resonated a lot of his later work and his growing interest in experimentation. The core of the song is Mike Garson's piano solo, which was improvised and recorded in one take; he came up with it after trying a solo in a blues style, then a Latin style, with both rejected by Bowie. Garson then came up with this performance, which he says he's been asked about about more over all the years since than anything else else he's ever worked on.
P.S. As with many folks, I've struggled with some elements of Bowie's past as I've mourned him. I have no problem writing off folks like R. Kelly, Woody Allen, and Roman Polanski, but honestly have a hard time with him – his music means too much to me to do so. I thought about trying to write something around that, but am instead including a few pieces below that I think capture the complexity of what I felt and thought in the days following his death, up to now.