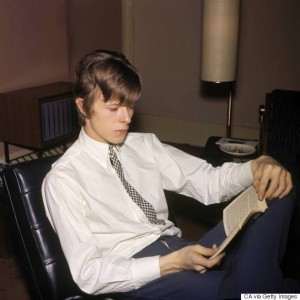 This is the third in a series of five parts, listing some of my favorite David Bowie lesser-known songs, in no particular order. (Also, see note at bottom about the complexity of mourning Bowie).
For full background on this series of posts, see Part One.
"Law (Earthlings on Fire)" – https://www.youtube.com/watch?v=ddn-5uKH6MU
Folks who know me from a long way back know that I got really into the industrial Skinny Puppy in high school; I continue to love that band to this day, though, I don't necessarily keep up with their new stuff. I never really grew to love any other band of that school, and over the years, I've realized that there is something about the aesthetic of the band, particularly in their mid-1980s/early 1990s era that I love, which is the sense of their songs as sonic collages, more than things with these tightly contained structures (as with many other industrial bands). Weird transmissions, voices, noises all sorts of things dirty up the textures of their music, and give it a distinct, raw, challenging feel. It's a subversive approach to music. I hear the same aesthetic at play is behind the production work of the Bomb Squad, who produced Public Enemy's early albums – a sort of organized chaos, to borrow from Outkast). This song, the last track on Earthling doesn't do exactly that, but it does reach towards it, at least for me. I particularly love it when the guitar riff drops back in towards the very ending of the song.
"Sweet Thing" – https://www.youtube.com/watch?v=BQvmmRHPiYA
This is a sweet and tender gem from 1974's Diamond Dogs, seen by many as Bowie's glam swan-song. It's a soaring mini-epic following the hard rocking song that shares the name of the album; this epic tone – which does harken back to "Rock and Rock Suicide" a bit – makes particular sense considering that the album came out of Bowie's attempt to write a musical version of George Orwell's 1984 (it never happened because he was denied permission to do so by Orwell's estate). What I particularly love is the drop into darkness you feel when the backing vocals come in the first chorus. It also starts on what's apparently one of the lowest notes Bowie's ever sung in a song, and then sails up, all in the space of the first verse.
"Win" – https://www.youtube.com/watch?v=mB9RSG-56wU
I know Young Americans (1975) is considered a pivotal album in Bowie's career (his first "plastic soul" work), and I usually cite it myself as evidence of how far his creative interests and collaborations ranged (this album finds him working with Luther Vandross; just two years later he'd be working with Iggy Pop), but have to be honest, I don't listen to a lot of this album. I enjoy this song, though, because alongside "Young Americans", it displays Bowie's eagerness to embrace his love for soul, and to try and live in it, in his own way. He sounds so relaxed, which feels startling considering he recorded the album in the middle of his Diamond Dogs tour and even retooled the set for the rest of the tour to include songs from YA, knowing that this new direction was likely to alienate many of his devoted fans. But he did it anyway. It's taking risks like this that cause me to see him as a symbol of creative courage. And I love the weird keyboardy sound in the choruses; without it, the song wouldn't work for me.
"Panic in Detroit" – www.youtube.com/watch?v=FSHQe8E2NK0
Another Aladdin Sane track. This song might be the first in the series that folks could argue is a better-known song, but I think it's probably more somewhere in the middle – not quite a deep cut, but not exactly a song folks think of when they think Bowie. What I love about this song is it seems to be an amalgam of several different styles all at once…there's soul and funk and percussion, which seems to take us into the same rhythmic territory as the Rolling Stones' "Sympathy For the Devil." But Bowie's glam-tinged lyrics and vocals, and the art-rock guitar (both the walking and slurring little lead) set the whole thing slightly off-kilter, adding both a square and jagged edge to the song for me. It reminds me of early Devo. It's got a groove, yet feels realy close to falling apart. And as such, the song comes off to me as one of Bowie's weirdest and "least obvious" tracks.
"Strangers When We Meet" – https://www.youtube.com/watch?v=jbrTDjbVaVw
This song, the last track on 1995's Outside (originally released on 1993's The Buddha of Suburbia soundtrack album, but re-recorded) is a slight, jazzy number that finds Bowie again embracing his inner crooner. It's a nice capstone to an album that cruises through some really dark and moody, experimental jazz-electronica-rock, the result of Bowie's first collaboration with Brian Eno after the Berlin trilogy of the late 1970s. And it features the indomitable Mike Garson on piano again.
P.S. As with many folks, I've struggled with some elements of Bowie's past as I've mourned him. I have no problem writing off folks like R. Kelly, Woody Allen, and Roman Polanski, but honestly have a hard time with him – his music means too much to me to do so. I thought about trying to write something around that, but am instead including a few pieces below that I think capture the complexity of what I felt and thought in the days following his death, up to now.