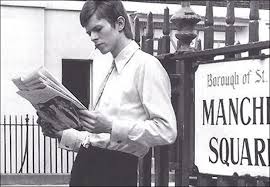 David Bowie, reading again.
This is the fourth in a series of five parts, listing some of my favorite David Bowie lesser-known songs, in no particular order. (Also, see note at bottom about the complexity of mourning Bowie).
For full background on this series of posts, see Part One.
"Slow Burn" – https://www.youtube.com/watch?v=x6MDhtBEmCs
The third track from Bowie's 2002 album Heathen, this song feels like it could have been on Scary Monsters. Which makes sense considering he got some of the same musicians he worked with on that album back to join him on this one (including Pete Townshend, who plays guitar on this song). It's got the same strut and conviction (though not quite the same fire) as "Teenage Wildlife," and both songs feature some awesome guitar work, not a thing I usually focus on all that much in Bowie songs. And it's nice to hear him confidently crooning again. And again, the merge of dark lyrics with a celebratory tune….
"The Man Who Sold the World" (B-Side to "Strangers When We Meet" single) – https://www.youtube.com/watch?v=stlzam1MRuA 
I know what you're thinking…this song is one of Bowie's most famous ones, famous enough to be covered by Nirvana during their Unplugged session. But this is a reworked version of the song Bowie and his band performed throughout the 1990s;  I saw them do it on both the Outside and Earthling tours. I feel like it's a testament to Bowie's interesting in taking on new challenges and creative boldness that he would take one of his classic songs and totally remake it. I actually prefer this version, to be honest, as there's something really intriguing about its smokiness and somewhat cold feel.
By the way, regarding Nirvana's cover: I had a housemate in college who was dating this annoying dudebro named Craig (nickname was "The Craiger"). Both I and the other five housemates all knew she could do better and told her as much, but for whatever reason, she didn't break up with him. But she did have a moment of clarity when he said that he thought that Nirvana had written this song. When she told me thing, I told her she needed to break up with him. Not knowing that this was a Bowie song was a deal-breaker, in my opinion.
"Sue (or In a Season of Crime)" – https://www.youtube.com/watch?v=MOGPDAFTLQY
Leading up to and directly following Bowie's death, folks have been listening to "Blackstar" and "Lazarus" from his last album, primarily motivated by the astonishing videos he had created to accompany them. But this song, a strange jazzy/drum-and-bass amalagam he originally released as a new single on his 2014 compilation album Nothing Has Changed and then reworked/re-recorded for Blackstar, was the first to really grab me. It reaches back towards Outside and Earthling, while also having some really aggressive and dramatic moments. As a drummer, it feels like it would have been really fun to play. And when he says, "Sue, the clinic called / The X-Ray's fine / I brought you home / I just said home…", the second time he says "home", I get chills. That single word is loaded with so much pathos, so much desperation, so much yearning.
"Looking for Satellites" – https://www.youtube.com/watch?v=t2FUhqM85bM
Track two from Earthling reaches back towards Bowie's mid-1970s use of cut-up technique to create enigmatic lyrics. It's a soaring, yet trancey song, that comes off (to me) as his version of shoegaze. Not much else to say about this song than that.
"My Death" (cover) – https://www.youtube.com/watch?v=rIzE3j84kKU
I saw Bowie perform this on the Outside tour. He owned it, and it shook me, and I frantically searched back through his catalog to find it, only discover it was a cover by a songwriter named Jacques Brel, who I'd never heard of before. Brel, along with composer Anthony Newley (who composed the music for one of my favorite movies, Willy Wonka and the Chocolate Factory, as well as the song "Feeling Good" made popular by Nina Simone, among other achievements) were big influences on Bowie's early songwriting; "Space Oddity" draws heavily from Newley's style, for instance, alongside his early to mid 1970s vaudevillian-style tunes on albums like Hunky Dory through Aladdin Sane. It wasn't until years later, when I listened to the live recording of Ziggy Stardust: The Motion Picture that I realized this song's one he'd done for decades. The song is a mysterious ballad, speaking to the notion that death is waiting out there somewhere, in an uncertain future, but at least the narrator has a chance to live and love before it arrives. And that that makes all the difference. The version linked to here is from a Ziggy-era concert…the version I heard in the mid-199os was just as powerful.
P.S. As with many folks, I've struggled with some elements of Bowie's past as I've mourned him. I have no problem writing off folks like R. Kelly, Woody Allen, and Roman Polanski, but honestly have a hard time with him – his music means too much to me to do so. I thought about trying to write something around that, but am instead including a few pieces below that I think capture the complexity of what I felt and thought in the days following his death, up to now.