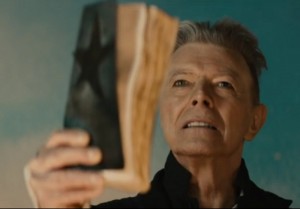 David Bowie, encouraging us all to read.
This is the fifth in a series of five parts, listing some of my favorite David Bowie lesser-known songs, in no particular order. (Also, see note at bottom about the complexity of mourning Bowie).
For full background on this series of posts, see Part One.
"Five Years" – https://www.youtube.com/watch?v=IWm03wYBTbM
While "Moonage Daydream"is my favorite song from The Rise and Fall of Ziggy Stardust and the Spiders from Mars (1972), this one is a very close second. (And yes, I know lots of Bowie fans know this song, but I don't think of it as one of his well-known songs by casual fans, so I'm including it here.) As the opening track to the album, it's the one that formally introduces Ziggy to the world, and launched a whole new era in Bowie's creative trajectory (and some might argue, the direction of popular music through the next decade). The pairing of this song as first, with "Rock 'n' Roll Suicide" as the last track, is probably Bowie's best album opening/closing pairing ever. It's full of apocalyptic vision and doom, yet feels like a celebration anthem at the same time. The genius of it is that it's basically four chords through the whole song (except the short bridge at the end of the first verse). It's Bowie's theatricality, distilled down from his psychedelic days, into something new, a dramatic style he'll carry through the whole album. And the line, "I think I saw you in an ice cream parlor / Drinking milkshakes, cold and long / Smiling and waving and looking so fine / Don't think you knew you were in this song…" tug at my hear every time; it creates an intimacy between Bowie and the listener even as the song opens up and expands into the ending chorus. I've seen an interpretation (on Genius.com) that suggests he's addressing oblivious folks who aren't aware of the coming end of the world in these lines, but they just don't hit me that way. But then again, what do I know?
"New Killer Star" – https://www.youtube.com/watch?v=fwH1g2fW6Pc
The opening track from 2003's Reality, this song appears to speak to the sense of dread and loss in NYC following the September 11, 2001 attacks (Bowie lived the last 20 years of his life in the Nolita/Soho area of lower Manhattan). Bowie said he didn't consider himself a political commentator, but that he did mean this to be a politically-charged song, with some denunciation of the US' march to war in the Middle Eaast, even if somewhat abstractly. Politics mixed with a soulful strut that echoes back to the Berlin trilogy, and Outside, and across his body of work. This honestly the only song from this album I regularly listen to, though I've heard some of the others are good, too.
"Kingdom Come" (cover) – https://www.youtube.com/watch?v=jQnlXIomPGs
Bowie frequently included at least one cover song on his albums. This one, from Scary Monsters — a song by Tom Verlaine, released just the previous year on his own debut solo album — is one of his best. It captures the original's jangly, angular spirit while also capturing Bowie's free-wheeling attitude on this essential transitional album. It fits in perfectly on this record. And again, there's some Ronnie Spector in there. (If you want an example of a bad Bowie cover, check out his version of the Beach Boys "God Only Knows" from his album Tonight. It's one the few artistic missteps I have a hard time forgiving him for; I just feel like the campiness slips over into cheesy territory — it's like a lounge singer's doing the song. And it runs so counter to the amazingly arranged tapestry of the original, my favorite Beach Boys song.)
"Where Are We Now?"- https://www.youtube.com/watch?v=QWtsV50_-p4
On his 66th birthday, Bowie released the video for this song, the first single from his first album of new material in 10 years, 2013's The Next Day (he also made the song available on iTunes the same day). It's a somber, poignant song (and video), that depicts a man struggling with his ghosts and memories, but still feeling somehow blessed. (The video is apparently full of references and allusions to Bowie's past, particularly his time in Berlin.) Bowie had stopped touring after having a heart attack during the Reality tour in 2004; he only performed live a few more times two years later. Seeing him in this video, and hearing this song after so many years of him staying relatively quiet was really emotional for me. This song, and The Next Day, really declared him to still be a vital, creative force to be reckoned with, even as he looked so shockingly weary and tired.
"Quicksand" – https://www.youtube.com/watch?v=oP2SS8ggLtU
This song — like a few others on this rundown — is likely well-known to serious Bowie fans, but not casual ones. It's a haunting folk ballad chock full of references to the occult, Buddhism, WWII political figures and other esoteric subjects Bowie was likely obsessed with at the time, yet it feels like the most autobiographical, the most personal song on Hunky Dory (1971). It's got an existential weariness, yet like "Five Years" had this weird transcendent quality to it as well, as if just letting go and acquiescing to not know the answers to all the big questions (including what happens after death) brings a comforting freedom. He was 24 when he wrote this, but it sounds like the work of someone middle-aged, looking back after a life of seeking. Having seen him perform this song live, I could tel this song still spoke to and of him, nearly 25 years after he'd written it. And listening to it now, with him gone, it sounds like a strange mini-montage of his life, with him continually seeking out new ways to see, know, say and sing. We can only hope he's finally gained the knowledge he'd been searching for through "death's release."
P.S. As with many folks, I've struggled with some elements of Bowie's past as I've mourned him. I have no problem writing off folks like R. Kelly, Woody Allen, and Roman Polanski, but honestly have a hard time with him – his music means too much to me to do so. I thought about trying to write something around that, but am instead including a few pieces below that I think capture the complexity of what I felt and thought in the days following his death, up to now.